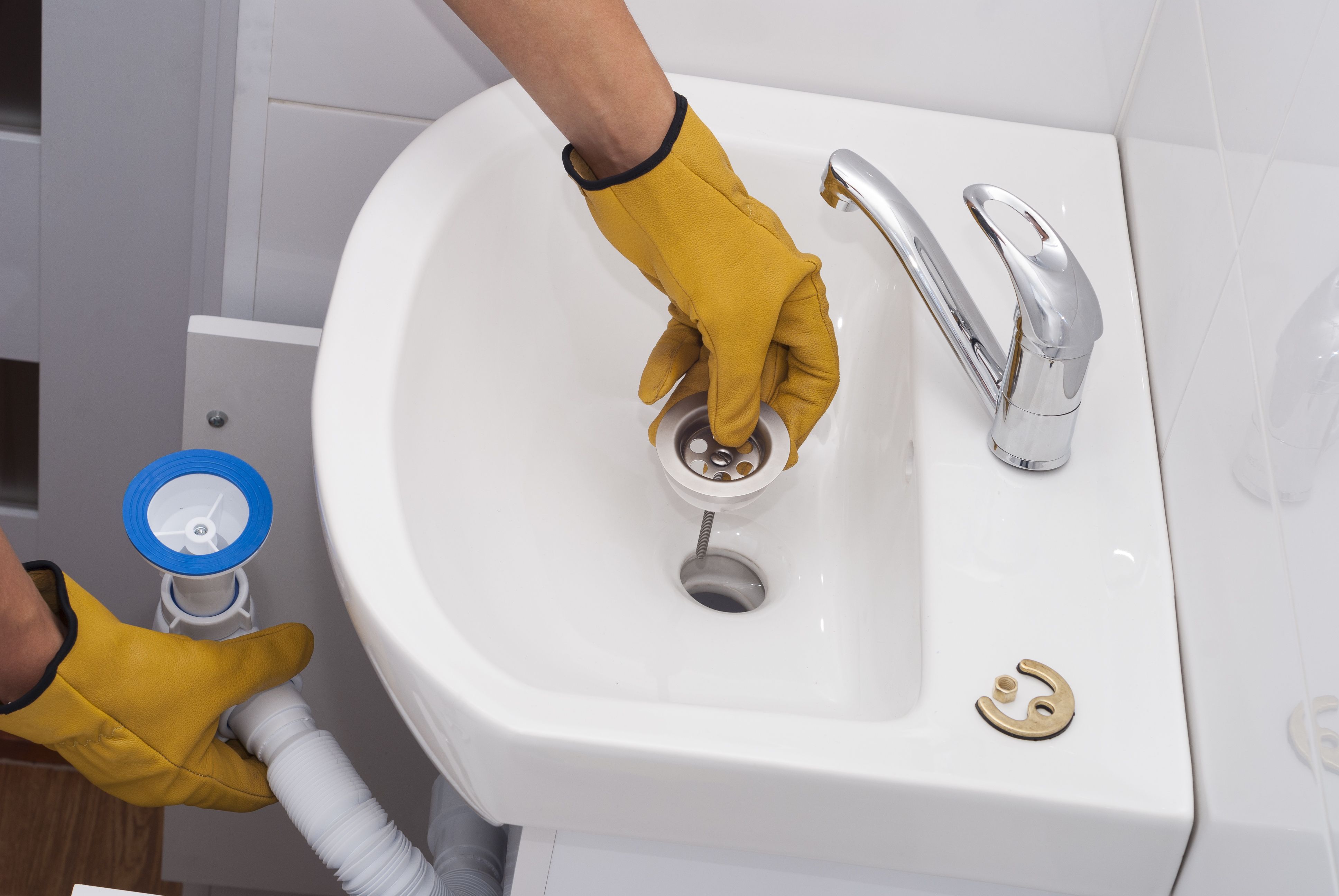 Are you sick of pesky drain clogs making life difficult? Slow or stopped drains are frustrating because they force you to either use your plumbing fixture sparingly, or rearrange your life to avoid using it all together. Plus, a clog that isn't repaired could actually do additional damage to your plumbing system before long. However, getting rid of a drain clog doesn't have to be tough. Not only can an experienced plumber help you remove a drain clog, but they can even take care of cleaning your drain so the chances of the clog coming back anytime soon are as low as possible! Plus, you don't have to risk doing serious damage to your plumbing by using a harsh chemical drain cleaner.
In this blog, we'll explain how we do it, and why you should trust a professional to get the job done right.
How to Remove a Drain Clog
Removing a clog is actually pretty simple with today's technology. Generally, we like to start these services by inspecting the inside of your drain line with a video camera inspection. These tell us not only where the clog is located, but what kind of clog it is, and this lets us formulate a plan for how to get rid of it. Certain types of clogs need certain special tools, and we can make the process much easier by using the correct tool right from the start.
Once we've conducted the inspection, we most likely will use a drain snake in order to remove the clog. Drain snakes are simple tools—they're a series of hooks or grabbers on the end of a line. This line is fed down your drain until it makes contact with the clog. The hooks are then rotated using a handle, which catches on to the clog and grips it. When the snake is pulled back up, the clog comes with it, and your drain is clear and moving freely again! Sometimes it takes a few snakes to really get the drain clean, but eventually we'll get it cleared out.
Depending on where the clog is, we may use a process called hydrojetting to clear your clog. Hydrojetting is the process of using a special high-pressure water nozzle to blast away clogs as well as clean the sides of your plumbing lines. This ensures clogs won't be coming back anytime soon.
Each of the following drains could experience a clog, and should be regularly cleaned to prevent one:
Kitchen & garbage disposal drains
Laundry room drains
Garage drains
Bathroom drains
Workshop drains
Storm drains
Perimeter & irrigation drains
What About My Septic Tank?
Many of the homes throughout the Fort Worth area, particularly around Azle, Lake Worth, Lakeside, and other suburban areas, are not connected to a public sewer. Instead, they use a septic tank for their waste disposal, and septic tanks need to be treated substantially differently. Our drain cleaning and clog removal services always use tools and materials which are septic-safe so you don't have to worry about further damage to your system. If you do have a septic system, do not use an acid or chemical drain cleaner. These substances are extraordinarily harsh on pipes, and can deal lasting, permanent damage to your septic tank. Our team members can advise you on septic-friendly drain cleaning and maintenance solutions which can help you keep your drains clear and moving smoothly after they've cleaned them out.
About Texas Plumbing Repair 24/7
At Texas Plumbing Repair 24/7, our experienced team cares for your home! We believe in honest and transparent service that focuses on exceeding your expectations in every way. We make it a point to deliver nothing short of a perfect experience from the moment you pick up the phone until we've finished the job. No clog is too difficult for us to handle—whether it's a typical clog or a tough task, we have the experience and skill to make sure it's completely taken care of. Our goal is to leave your drains looking as clean as they were the day they were installed, and we design our services with that goal in mind so you can be sure the job will be done correctly. We even back up all of our services with a 100 percent satisfaction guarantee, and are available 24/7 for emergencies so you can confidently get your drains cleared out without worry!
Let us handle the hassle of cleaning your drains! Call Texas Plumbing Repair 24/7 at (817) 799-7327 today and let our Fort Worthy plumbing experts make the process easy.